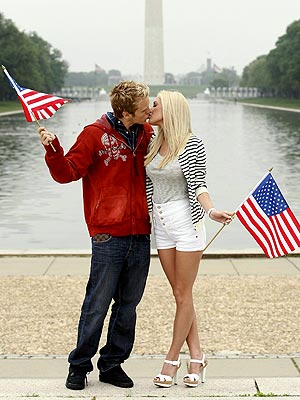 Yep, you guessed it:  Speidi.  I'm not exactly sure how this happened.  But, each week as I watch The Hills (on my computer, no less, due to our lack of cable), I despise Spencer and Heidi more and more.  This whole wedding business pushed it over the edge.  I loathe them.  And, on the other hand, how smart are they????  They are the couple we love to hate, and they are making millions off of us.  Spencer and Heidi EACH make $65,000
per episode
, clocking in at around $1.25 million EACH annually.  Seriously????  
My girl LC is at the top of the salary scale, making $75,000 per episode ($1.4 million annually).  Spencer's formerly coked-out sister Stephanie gets the short end of the stick, at only $8,000 per episode - which still gives her $152,000 annually.  And, for someone who seems to do nothing besides go to fashion school half-heartedly, I think that a six-figure salary is pretty decent.  
I've made no secret of the fact that I love LC.  She's awesome!  Seriously - wouldn't you want her as a bff?  Without all the drama, of course, and perhaps she should consider waterproof mascara.  All that crying gets a bit embarrassing.  Hills girls I wouldn't want as friends:  Heidi, obviously, Stephanie and Lo.  I was totally on Team Audrina through the whole Audrina-Lo feud, despite the fact that Audrina is a little crazy looking and can't ever make eye contact.  But Lo is just...a bitch, right?  Who's with me?  
Anyway, as the 4th season finale is coming up, I'm about to go into a Hills withdrawal.  Thank goodness The City starts soon - anyone planning on watching?  I must say that I also wouldn't mind have Whitney as a bff, as she seems to be the only really sensible girl of the group.  Plus, hello!  She would totally get me a good discount at DvF, and I kind of LOVE those dresses.
Who's with me??