Y'all know that I love The Hills.  Never mind the fact that I didn't even watch the last season because I didn't have TV and our internet was shoddy so MTV.com was super duper slow.  
Now, since I don't have MTV, I also didn't get to watch the VMAs last night - but thanks to the beauty of the Interwebs, I learned pretty much everything I needed to know.  Kanye?  WTF.  Not cool, man.  I am with
Crazy Days and Nights
about the whole thing being a set up.  I
 wouldn't put it past MTV, at all.  
But I digress.  I was talking about The Hills.  Perhaps one of my least favorite "characters" (what do you call them?  Real People with a sketchy script?)  is Stephanie Pratt.  I kind of love her because of the drama she stirs up, but I also kind of hate her because she comes across as such a dense, dense girl.  I saw the photo of her from the VMAs last night and...wow.  Let's revisit Stephanie in photos, shall we?
Here:  a mugshot.  Not sure when this is from, but it is spectacular.  This is kind of how I think of Stephanie, always.  It's that special look in her eyes that just screams "I am a BITCH and I don't care if I got arrested, my biggest concern is probably who is showing up to the pool party today with Brody."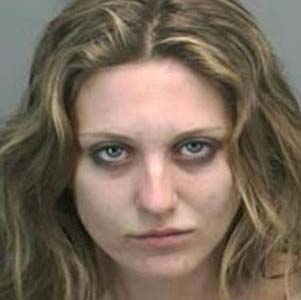 Here's a good one...Stephanie all dressed up at some Hills event.  Please note the dark roots and the signature Pratt smirk.  It runs in the family.  Nauseating, isn't it?
Here, for good measure, is a photo of Stephanie at LAST year's VMAs.  She looks...like Stephanie, although her roots appear to be a little more under control.  
SO.  What in the F$@% happened here??!  Does anyone else find it a bit disturbing that she is morphing into Heidi Part Deux???!  I barely even recognize her in this photo.  
Seriously.  Look familiar?
I, for one, am concerned.