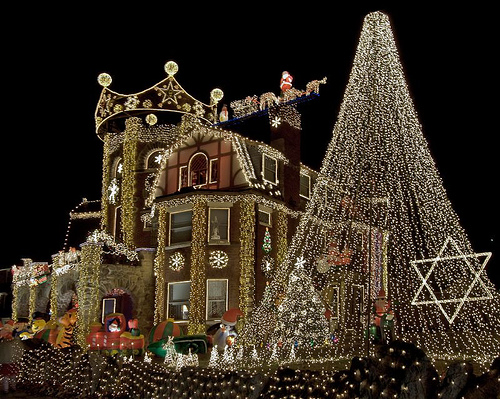 ...around town. The lights are up around the square downtown, several people have lights up outside their houses/apartments, SUVs have bows on them...all the signs are there.
But not at our apartment...we still have Indian corn hanging from the front door, pumpkin candles, and gourds on display. For some reason, I just can't seem to get into the Christmas spirit this year. Not sure why exactly, but I seriously think that part of it may be the unseasonably warm weather we've been experiencing all fall. It is December in the midwest, and I just now brought out my winter coat. We turned the heat on for the first time on Tuesday. I just now got some hot chocolate.
Last night I spent around two hours trying to make a Christmas list for my MIL. The whole time, I just couldn't figure out why it was so damn hard! Is it because my entire family is basically skipping Christmas this year? Maybe, although thankfully we will still be celebrating with my in-laws, so hopefully the Christmas spirit will hit me eventually...?
Yesterday, I decided it was time for Christmas to start around here, officially. This weekend I'll be cleaning up/packing away all of the fall decorations, and we're going to get a Christmas tree! We didn't get one last year, so it will be our first tree in two years. I am starting to get excited about unpacking all of our decorations and ornaments...plus, a Christmas tree makes everything look so warm, happy, and fun...don't you think? Once we get the Christmas tree set up and decorated, I'm going to wrap my Christmas presents EARLY and actually put them under the tree...what a novel concept!
Is anyone else having trouble getting into the Christmas spirit this year?